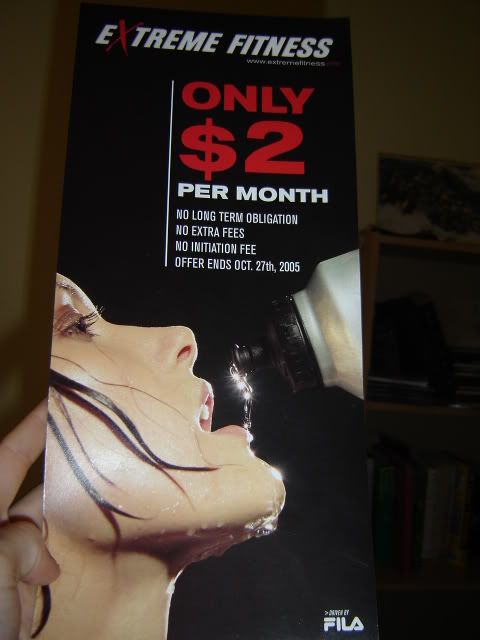 This ad pisses me off for
two
three reasons.
1. It's blatantly pornographic. Will this honestly appeal to women looking for a gym? Maybe I'll go in there for a free tour and then ask when I get to jizz all over some hot model. If they say I can't, then I'll pull out this ad and say, "Well, what the hell does this mean then?" I think this ad is equivalent to a written contract, so I hope they have lots of kleenex.
2. They say the offer ends on October 27th, but I get these ads ALL THE GODDAMN TIME. I get at least one a week, maybe two. FUCK OFF EXTREME FITNESS. I'm not interested in your sick, depraved gym.
3. It's only $2 a month for a short time, then it's something upwards of $80-90/month. That is a huge rip-off - unless that 'other thing' is true, but even then... AND the name is dumb.
Extreme
Fitness. What's so extreme about working out on a machine with some fat guy's ass sweat all over it?
In closing, GO TO HELL EXTREME FITNESS AND TAKE YOUR DAMN ADS WITH YOU.
Thank you.