This list
of eligible Hall of Famers is messed up. I'll give at least 2 reasons.
1) Jim Abbott - 87 wins and 108 losses with an ERA of 4.25 with 888 career strike-outs.
Now, don't get me wrong, I liked Jim Abbott in his day (basically because he only has one hand) but that in itself shouldn't be enough to get you into the Hall of Fame.
Still, he's better than:
2) Darryl Strawberry?? Let's look at his stats :
1990 - arrested for allegedly striking wife in the face and threatening her with a handgun. Also entered Smithers Centers for alcohol rehabilitation.
1993 - Divorced from Lisa, was arrested for allegedly striking Charisse Simons (girlfriend).
1994 - Admitted to having a substance abuse problem and entered Betty Ford Center.
1994 - Strawberry and his agent, Eric Goldschmidt, were indicted on federal tax evasion charges.
1994 - tested positive for cocaine and was suspended.
1999 - arrested for cocaine possession and for soliciting an undercover officer for sex.
1999 - again tested positive for cocaine.
2001 - has a four-day drug binge. After a hospital stay, was sentenced to spend two years in a drug treatment center.
2002 - was booted from the treatment center for breaking its rules, including the one not allowing sex between residents.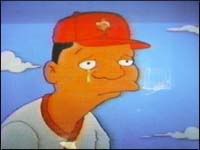 Maybe if slugging percentage included his significant others, and there was a stat for being addicted to crack, he'd be a prime candidate. Maybe. Although, he was pretty funny in that Simpson's episode.
They won't let Pete Rose in, who has the major league record for hits because he gambled, but they'll nominate someone who has repeatedly had trouble with things, that in my opinion, are worse than gambling.
Well, Pete, I hope you've learned a lesson. Instead of gambling on baseball, you'd have been better off smacking your wife around after doing some crack and not paying your taxes. (forget that last one, he had a bit of a problem with taxes too. Whatever...)